Shuno
Characteristics
Alias
The Witch
Gender
Female
Age
1500+
Status
Alive
Abilities
Abilities
Fire Magic
Summoning Magic
Teleportation Magic
Status
Partner(s)
Pointy Head
Relatives
Vamirio(Niece)[1]
Media
Manga Debut
Chapter 16 (First mentioned)
Chapter 22
Shuno (シュノ, Shuno)[2], short for Shunova (シュノーヴァ, Shunōvu~a) and better known by her alias, The Witch (魔女, Majo), is a wise lady and the aunt of Vamirio.[3]
Appearance
Edit
Personality
Edit
The Witch's Adventure Log
Edit
Piwi was found in a forest by the Witch.[4] He is taken in by the Witch and is taught how to greet people and is given a name.[5][6]
Remote Island Arc
Edit
Save the Humans Arc
Edit
The Witch talks to herself about how she has failed to change the outcome despite trying many times to do so.[7]
As Ulm Castle entered an increasingly desperate situation, Azudora conceded to wanting to open a gate to bring everyone else to the Imperial Capital. However, Shuno arrives in the nick of time to allow Azudora to reconsider. Shunova reveals that she is Vamirio's aunt.[8] Shunova asks Azudora to do everything he can to help Vamirio. Lastly, Shunova tells Azudora about Piwi's abilities.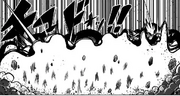 Abilities & Powers
Edit
Searching Magic: A magic that enables Shuno to locate individuals and objects. She used this ability to try to locate Piwi.[9]
Teleportation Magic: Shuno has been shown that she is capable of teleportation.[10]
Fire Magic: Shunova stated her abilities are practically a mirror image of Vamirio's.[11]
Dancing Inferno (踊れ炎, Odore-en): Shunova likely has assess to the same spells as Vamirio.
Fire-Drake, Vulca (火竜ヴル力, Hiryū Vuru-ryoku): Shunova uses multiple instances of this spell at the same time to eradicate the monsters around Ulum Castle.[12]
Phoenix-Suzaku (炎鳥・スザク, Enchō Suzaku): Shunova uses this spell alongside Fire-Drake, Vulca to destroy the monsters around Ulum Castle.[13]
Summoning Magic: Shunova likely has assess to the same spells as Vamirio.
Physical Abilities
Edit
Enhanced Senses: Shunova can see much better than others. Shunova was capable of spotting Pointy Head from hundreds of meters away.[14]
Major Battles
Edit
(To Vamirio) "That man called Helck. He is an existence that is a greater threat than you realize It's okay for now. He should serve as a powerful ally. But there is no guarantee that it will last. There is a whirlwind of countless emotions spinning inside that man. His way forward is darkness. What might await him at the end of a hopeless goal is... Never forget. That man hides within him a possibility of calling forth great calamity. I pray that you make the right decision."[15]
References
Edit